Army Athletics Track and field


NEWS
In the Decathlon, Peter Moreno's slip in the men's 110m Hurdles cost him some points and a podium finish as he closed out at 6281 points after his 1500m. Moreno fell after clipping one of the barriers, but he mustered enough courage to finish. - See more at: makingofchamps.com and cojabrazzaville2015.com (day two results)
Ady Whitwam – Following a very successful 2015 Ady competes at the World Athletics Champs in Lyon
Stuart Henderson World Masters Athletics 2015 Championships
Rfn Drammeh success story in the German Press
Results Inter Services Championships held on 8 July 2015
Results Army Inter Unit Team Finals 17th June 2015
Combined Services Athletics Association (CSAA) versus Loughborough & Birmingham University 10June 2015.
The Combined Services Athletics Association (CSAA) attended the yearly fixture, versus Loughborough & Birmingham University, on 10 Jun 15.
In what was a competitive fixture, it is with great delight that I can report that the CSAA (male and female combined) narrowly beat Loughborough University, to take first place on the night. The results are attached for your perusal.
May I thank  everybody who assisted with getting the athletes to the start line. Coupled with this, Capt Steve Chappell and Cpl Woodhouse must be thanked for their management of the CSAA  male and female team – well done! Outstanding Results.
Cpl Ramone Smith RLC ranked UKA 6th indoors at 60m

Brunel and Bath Universities is offering the opportunity for high quality technical development.
LCpl Muskwe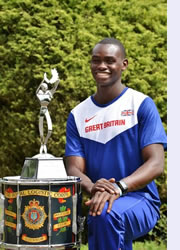 LCpl Muskwe competed in the European Cup Combined Events competition, for GB, in Torun, Poland.  He came 10th overall out of 32 international athletes and was the highest scoring GB athlete competing, but achieved a new PB, scoring 7565 points, beating his previous best of 7326 points.  This was a big achievement having  jarred his knee in the Long Jump (2nd event) and probably lost about 120 points in that event alone, registering just one jump.  He went on to gain a further 6 PBs, if it was not for his knee, he would have taken his PB even closer to 7800 points; having reviewed his performances.
LCpl Muskwe is now ranked 3rd in the UK, a credit to his own dedication and the coaches who have mentored and advised him, especially as he was injured and could not train properly in April and May this year.  There is certainly still more to come from this talented athlete.
THE ARMY INDIVIDUAL CHAMPIONSHIPS
These take place in May/June and are combined with the Inter Corps Championships. All competitors who have entered as part of a Corps team automatically qualify in the individual competition. This is an Army team selection event for the Inter Service Athletic Championships.
ARMY v LOUGHBOROUGH
Normally held in May at Loughborough University. This is an opportunity for established athletes and new comers to compete against Loughborough University and the British Police. The top individuals from early competitions plus established athletes are selected to compete for the Army.
UNIT TEAM SEMI FINALS
Normally held over 2 days in the 2nd or 3rd week in June. Qualification for these events, are through respective Divisional Championships.
ARMY FINALS
Army Finals take place at the beginning of July and qualifiers notified from the 2 semi finals are joined by teams from Germany. As with all competitions, this is a selection opportunity for any athlete who wishes to represent the Army at the Inter Services Championships.
INTER SERVICE/ARMY HEPTATHLON/DECATHLON CHAMPIONSHIPS
This two day event is held in July. This is an Inter Service event that has the Army Championships incorporated within it. There is no restriction on how many individuals may enter. However the top 4 places both in the Heptathlon and Decathlon constitute and qualify as the Army team. This year the Army is hosting the Inter Services events at the Aldershot Stadium
INTER SERVICES CHAMPIONSHIPS
This is the last event in the athletics calendar. The Army team is selected from known athletes and those who have demonstrated the appropriate level of performance in the various events throughout the year.