Army Cross Country
National Cross Country Championships - 21 Feb 15
On Saturday afternoon at 14.40 hrs, 860 athletes stood at the foot of Parliament hill ready to compete in the National Cross Country Championships. Within minutes the athletes were heading up the drawn out hill into 8k of hills mud and more mud. At times the mud was at calf level.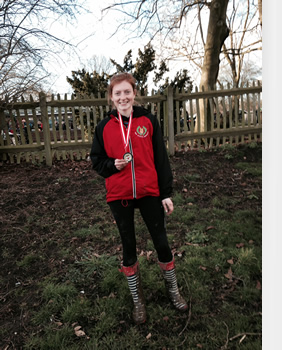 At the top of the hill saw Lt Lauren Hall in a strong position of around 38th place. After the strong start Lauren dropped a few places into the middle forties. After a big intake of breath and lots of drive and determination, Lauren started to come through the field and with a great finish ended up 31st overall. Lauren secured the final team position to give Aldershot Farnham and District team gold. English National Team Cross Country Champions.
The Senior Men's Race saw Major Ady Whitwam placed 35th overall. An outstanding performance from the Army Champion. This is one of the best performances by an Army athlete in recent years.
Fantastic to see Lt Col Howard Long AAA Chairman running at this high level of competition.
Over 3500 athletes took part in the competition.
ARMY CROSS COUNTRY TEAM AND INDIVIDUAL CHAMPIONSHIPS FINALS – SENIOR, JUNIOR, VETERAN & WOMEN February 4th 2015 RESULTS
Army Inter Unit Cross country Relay Championships - 22 October 2014 - Results
INTER-SERVICES CROSS COUNTRY CHAMPIONSHIPS 2014 – Results
ARMY CROSS COUNTRY TEAM AND INDIVIDUAL CHAMPIONSHIPS FINALS – SENIOR, JUNIOR, VETERAN & WOMEN 2014 Results