Army ATHLETIC ASSOCIATION TOURS
Alpine Runners Middle Distance tour France 2013
ALPINE RUNNER 4 - 21ST SEPT 1ST OCT 2010 FRENCH/SWISS ALPS

Introduction
1. The Army Athletics Association holds 2 training camps annually one to prepare athletes for the forthcoming Athletics season normally held in March/April and a 2nd held in
2. September/October to prepare for the cross country season. Alpine Runner incorporates the Geneva 10km and the Abondance hill race as part of the training schedule and upto 20 athletes of Army or Regimental standard are invited to attend.
3. The purpose of the tour remains to:
a. Prepare athletes for the forthcoming cross country season.

b. Identify new talent and introduce them to Army level training practises.

c. To educate and encourage Regimental standard runners to participate and in so doing set up and form unit teams on their return to unit. With the primary target to increase participation at Division/Army level and provide a more informed competitor base.
4. Planning. Contact with the owner of the chalet accommodation in France to clear dates normally takes place in February /March after which clearance from the ASCB and the FCO in country is required. Letters are forwarded to athletes normally in March with returns and deposits (non refundable) to the tour organiser by early/middle May. Finalising attendees is often thwarted by genuine changes in circumstances but too often last minute personal agendas. Finalising attendees and securing transport remains the most arduous task in the process and can take up to 4 months of continuous phone contact, often resulting in additional costs being borne in order to change flight details/travel arrangements. The transport and road party personnel have been predominantly from REME attendees and have proved very reliable and supportive over the last 4 years.
5. Training and Accommodation. Accommodation is at La Ville du Nant a small village nestled between Chatel and Abondance in the French Alps. It consists of 2 chalets which can accommodate up to 35 personnel but for ease of transport, catering - the tour is self catering - and for room comfort, numbers are now fixed at 15. The village sits in a valley at approximately 1100 metres and the training takes in some very tough hills/mountains with climbs up to 1800metres. There is also a small gymnasium facility attached which is used extensively. Attendees have to be physically capable of training twice a day and be prepared to undertake other duties post the training day. This can at times be very arduous.
6. Funding. The tour is funded almost totally by the participants with some assistance from the Athletics Association. The main external source of financial assistance remains the Army Sports Lottery which covers a considerable section of travel costs.
The Journey Begins. Alpine Runner 5
I've managed to get on this tour at last minute through the efforts of WO2 Joe Forshew. As a wannabe runner, Alpine Runner 5, in the French/Swiss Alps approximately 1hour from Geneva will provde me the opportunity to improve my running performances.
The price, apart from the fiscal rectitude that must be faced is a 700 mile road journey through France in the advance party.
The road party consists of myself and the rest who were veritable veterans of army running. Maj Jim Wood, the ring master who has had to do most of the jumping through hoops himself to get us all together, SSgt Pat McGeever, Dave Branfoot and myself .
An early morning start sees us head from Aldershot towards Dover. 10 minutes in and we realise that the minibus is restricted to 60mph which was to make for a long old day. We got to Dover, knowing we were pushing it if we hoped to make the right Ferry.All was in order though and once the realisation that the minibus would be a long old drive the ferry.
Hours of 'spinning dits' and reliving memories of last year's event saw us make steady progress through the fields of France – the glorious weather making it an easy drive. I couldn't drive mini-bus so bore the full force of Pats tales of their past. I can only assume we were still going through amazingly beautiful countryside, it's hard to tell when your eyes are streaming with tears of laughter. All this meant we were in for a good tour. If the worst part is a laugh a minute then how bad can it get?
We only stopped a few times – for minibus and personal fuel. I learned that Pat is fluent in French if you ever need translators. In particular he uses the oft tried and tested technique of speaking in his own language but louder, slower and with the aid of frantic hand signals. We met interesting characters thanks to his desire to talk to anything that would talk back, including a German, living in Switzerland travelling to England to buy some French stereo's. Clearly a Europhile – who by the way had a penchant for the daily star and England's finest roses pictured inside.
After the over-night stay we pushed the final stretch to Chatel, our home for the next 12 days. A quick divvy up of the rooms and we push out for a shakeout run, 7 miles. The start of a tally that will help us both prepare for the Cross country season. The company is good, the view is spectacular, the training will be intense but I'm already looking forward seeing just how much hills really hurt.
For our first session of the day we all headed up to Pas de Morgins at 1369m for a gentle 5 mile run passing a beautiful lake and heading over the border from France into Switzerland and following a river track before turning back.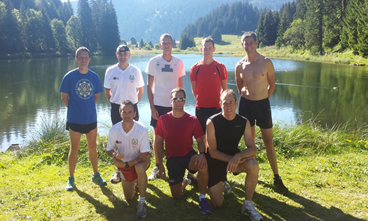 Having visited Evian on the French side of Lake Geneva the previous day everyone was keen to soak up some more culture. The bikers amongst us swapped their running gear for lycra and cycled back up Pas de Morgins and steadied their nerves before completing the 7.5 mile descent down the mountain into Switzerland then cycling a further 20 miles to Montreux, a small town on shores of Lake Geneva.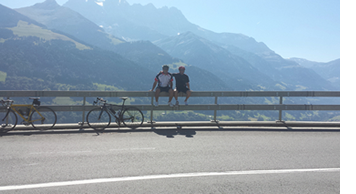 Following closely behind were the rest of us in the Minibus. Montreux is famous for the Mountain Music studios where bands including Led Zeppelin, Deep Purple and Queen recorded some of their famous hits. Beside the Lake is a bronze statue of Freddie Mercury in his famous pose.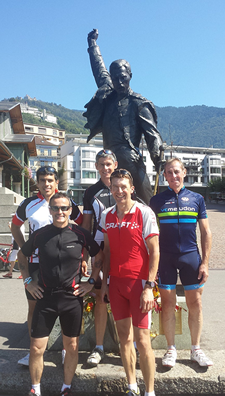 We were greeted with another glorious morning of sunshine upon waking Wednesday. It also happened to be Smudge's birthday, even though he needed a text from his brother to remind him!
For some the day didn't exactly start with the usual enthusiasm to get the first morning run out of the way and get those extra all important additional miles in the bag. This without a shadow of doubt was down to "Smudgers" birthday bash the evening before which foolishly continued later in to the night than was first planned. Well what normally doesn't? Subsequently this error of judgement led to one or two lemonades too many. Still you live and learn; apparently!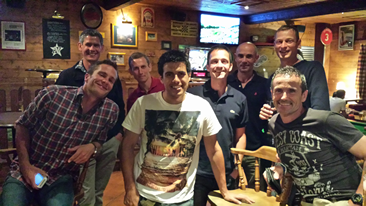 Those that did manage to grizzle out the run then crazily cooled off afterwards under the freezing cold Alpine water cascading from a local waterfall some 80 feet from above them! This act of lunacy has scarily become an annual ritual for those that either have no pain threshold or skin as thick as a rhinos. Great hangover cure; not!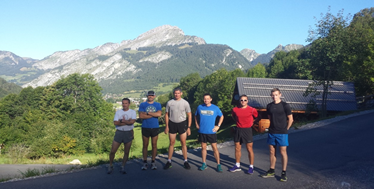 After a quick turn-round the three amigos, Col Rob, Jim and Joe set off by bike, their 3 man mini peloton heading deep in to Alpine territory on a 3 hour jaunt to the picturesque town of Morzine. At Morzine it was pre-arranged that they would rendezvous with the rest of the group who had once again pain snakingly travelled in the German designed, claustrophobic feeling excuse for a minibus. It was more like a converted transit van with additional seats bolted in to the back, no mod cons and no rear opening windows for ventilation, which left the unfortunate travellers with the constant sensation that they were about to bath up. Still at least it came with a fuel card!

By September's standards the weather was absolutely red hot. Consequently, during one of the brutally long assents this forced Jim to seek additional refreshment in a roadside Goat's trough in an effort to prevent him from going man down! Fortunately there were no side effects; not even the trots (excuse the pun).

After another ground hog day scenario window shopping for time pieces you would need to do a bank job to afford it was then time to head back to our humble abode. As late afternoon beckoned, people set off for their various sessions with the knowledge that whatever was on their training programmes agenda, it was going to be sweaty and more importantly, it was really going to hurt!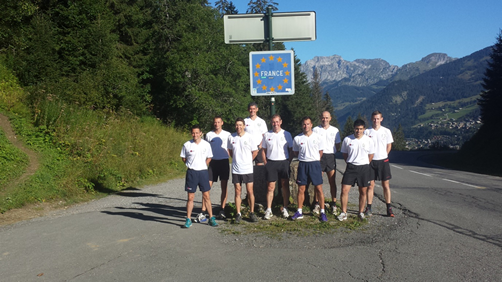 Sun 31st 37th Courses du Mandement at Mairie de Satigny, Geneva, Switzerland.
Race-day
We all hopped out of bed before 0600hrs on race-day and after a frugal breakfast and some eye-opening coffee, set off for Geneva in the minibus. We drove a lovely, scenic route, through the Abondance Valley and found race HQ in Mairie de Satigny with plenty of time to spare before starter's hooters.
We confirmed our entries in a mixture of broken French (is there any other sort?) and super-slow-motion English and then fanned out to walk the course. We had a look at the start and finish and at first glance confirmed it to be a lumpy course. Four of us had chosen the 7.2km trail race due to start at 1000hrs and three of us stuck to our guns with the 12.1km race, due to go off at 1015hrs. (Nobody, at this late stage, had a change of heart over the 22km Raid, which was probably a wise choice).
The village of Mairie de Satigny, nestled into the Alpine countryside just outside Geneva, was buzzing with expectant runners, excited about competition and already warming up in the heat of the morning sun. The signs were that the temperature was going to rise quite quickly and most of us wished we'd had some of Dave Branfoot's pre-race preparation in Cyprus. The combination of local mountain terrain and the brightening sun promised to produce fairly tough racing conditions - and we weren't disappointed. So, as Col Rob (Herring), Directeur Sportif (Maj Jim), and Pat2 (Pat McGeever Senior and Pat McGeever Junior) set off on their 7.2km loop, the heat was noticeable, and for Gaz, Dave and Ady 15 minutes later, the temperature was easily into the mid-20s.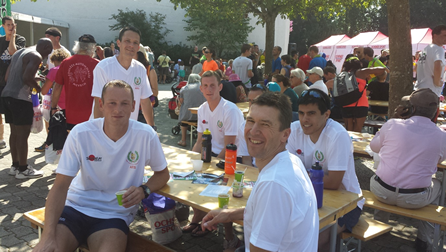 The race took us through some picturesque countryside, and past a few local well-wishers. We covered some steep drops, early on, and then the inevitable steep climbs. In the middle of the route, none of us had a clue how long these lumps would last, and were forced to push ahead against our opposition regardless.
The first water-stop was placed at the 5km point – very thoughtful - but most of us felt strong enough at this early stage to keep going without taking a cup. A few kilometres later, however, and the temptation was slightly more compelling and one or two of us took the chance to wet our whistles on-the-hoof.
The light at the end of the tunnel came just before the 10km point, where we hit the final significant climb. This was a fairly testing hill, worth several minutes in running time, and was clearly designed to sort the field out for one last time. It led us up a woodland path, negotiating tricky steps that had been forged into the ground – very unkind. This sting in the tail signified the worst that the course could do, thankfully, and brought us back almost within sight of the finish complex. We had a mile of lanes to cover, by way of respite, and then a corridor or spectators guided us to the arrive. Job done!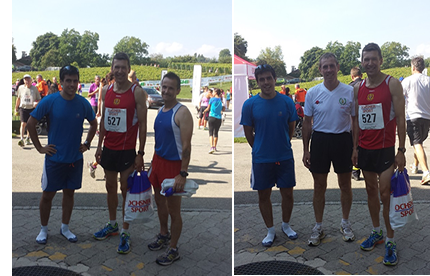 We each have memories of our own private battle: Col Rob with his hamstring; Jim with his catalogue of biking injuries, but we all agreed that the heat proved the toughest opponent. So, with less than a day of acclimatisation beforehand, we were all suitably pleased with our performances. The team results were excellent in both the 7.2km and the 12.1km race. In the shorter race, we placed 4 in the top 36 of 173 finishers, whilst in the longer race we squeezed 3 into the top 6 of a field of 280 finishers. These excellent results were rewarded at a traditional presentation ceremony with trophies and bunches of flowers. Well done to all for a great day of trail running.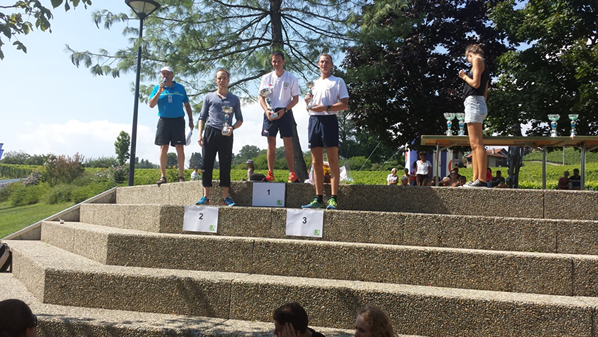 | | |
| --- | --- |
| Results 7.2km(of 173 finishers) | Results 12.1km(of 280 finishers) |
| 12th Sgt Pat McGeever – 29:45 | 1st Maj Ady Whitwam – 42:44 |
| 17th Maj Jim Wood – 30:39 | 3rd WO2 Dave Branfoot – 44:08 |
| 26th Patrick McGeever – 31:52 | 6th Pte Gareth Williams – 45:19 |
| 36th Col Rob Herring – 34:20 | |
Today is a rest day for myself, which is a lovely feeling and a very important part of any training cycle as it is only through the easy days do we allow the body to draw breath, reduce the chance of injury and allow the muscles to grow in power.  A rest day for most peole is a day monging around on the sofa maybe with a duvet in tow and the most strenuous activity is making a cuppa.  This is certainly true for those who don't choose to run 10 miles up mountains and cycle 50 miles a day. 
For an athlete (even an old one) a rest day includes such things as an hour in the gym stretching to ensure the muscles recover in a correct way, it also highlights any niggles that may need treatment before you return to hard training.  A few days off is better than a month off.  It also includes a 6 mile run.  For most this may seem crazy but I can assure you if I did not have a light jog at chatting pace along the flat valley floor I would not be able to sleep at night.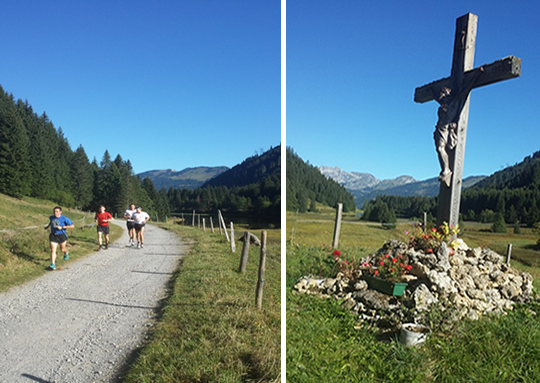 The chance also to pop into town, write postcards in the beautiful surroundings and the never ending cow bells ringing around the valley.  Also to collect provisions for dinner well everyone else is suffering with the running and cycling.
This is shaping up to be a great trip that allows myself to resume training after the break at the end of summer when the racing is done.  This period of high mileage and effort training is what gets me to the start line of the first league race in far better shape than those who do attend it.  Just hope they don't come along next year as they may best me.
Sat Nav day
On Friday 06 September we planned a day trip to Annecy a beautiful French town sat on the shores of Lake Annecy.
The Morning routine was in full flow with the morning runs getting underway it was at this point that a discussion between Col Herring and Joe started up about the possibility of cycling to Annecy which soon became a plan. The route is only 60 miles passing over 3 big mountain climbs on roads that look easy to navigate on what could possibly go wrong. We broke this plan to Jim over breakfast which was greeted with some scepticism but we soon persuaded him that it was a good idea and with plans set to meet up with the road party we set off.
All was going well when we stopped for lunch 2 big climbs in the bag with some lovely open fast descents done. All fuelled up with the world's largest ham and cheese baguette and after a quick check of the route card we  were on our away again. Just 30 miles and the Col De St Bernard to go and a nice roll downhill into Annecy to look forward to.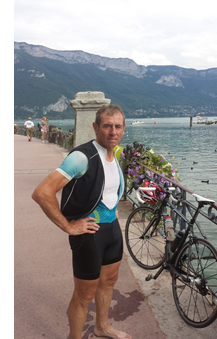 This is when Navigational error number 1 kicked in, point to note the Col du st Bernard un be known to us is actually called the Col De Columer so we just passed on by unaware of our mistake after nearly an hour of much discussion and trying to communicate with locals we finally got back on track towards Annecy it is now only 15 miles to go so only 45 min to go before having a nice coffee by the lake. Another hour passes and still no sight of this lake how hard can it be to follow road signs and find one of the biggest lakes in France that is no more than a couple of miles away! We eventually roll into Annecy after over 6 hours of riding and nearly 90 miles ridden we met with a now very bored road party there are only so many coffees you can have sat beside a lake no matter how beautiful it is. Still at least it is only 1 and a half hours by van back to Chatel so plenty of time for the guys to get there evening run in.
Nav error number 2 after passing through the Toll we took the road to Lyon not Geneva never mind we can just come of the next junction and head back! This put us in a massive traffic jam and added nearly an hour to the journey once passing through the same toll we were back on our way.
Nav Error 3 do not listen to an out of date sat nav system which I am sure had its own agenda so after it giving us a sightseeing tour through the streets of Geneva in rush hour. We eventually got back to the chalet with the night drawing in with some very disgruntled and hungry passengers. Gaz Williams must be commended for his efforts in driving us all back in what was very trying conditions.
Moral of the story buy a MAP!!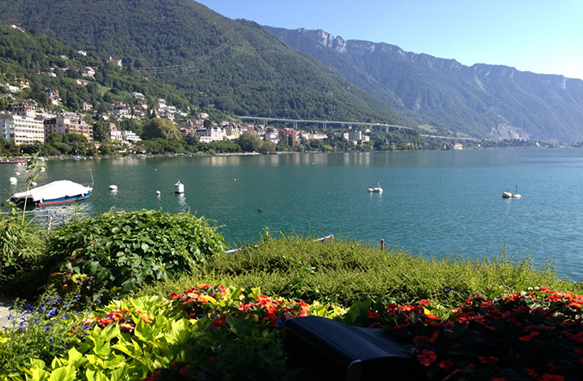 After the morning activities once back at base most soaked their aching muscles in the Jacuzzi whilst others ventured out shopping in Montreaux . Maj Jim Wood, W02 Joey Foreshew, SSgt Dave Branfoot and Sgt Pat McGeever had other ideas like biking up the Col Avoriaz an 1814 metre climb which featured in this year's Tour de France. After completing the climb a quick brew stop and a few pictures (one of Jim looking like a Japanese tourist out on a cycle jolly) it was time for the decent, a nail biting terrifying sudden drop something you would only experience on a fair ride but with death defying sheer misses with the local sheep farmers (MAD FRENCH PIGS). All got down safely and lived to tell the story. Overall Wednesday 25 Sept 10 has been a very rewarding and enjoyable if very tough day physically by all on AR5. May it long remain.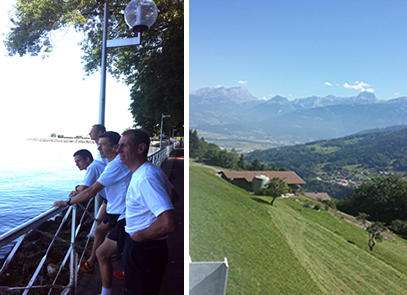 The final leg the return journey was varied but drawn out as delays ensued for both the road party and at the airport. The anti-climax begins now but 10 days of training should stand us in good stead for the cross country season and various races we've all got lined up. Hill's never seemed so small in Britain.